Case Study


K12 Education Congress Go back to projects list
Information website for educators around the country to attend seminars for the opportunity to network as well as discuss strategies on education.
Client:

RTM Business Group

Industry:

Education

Date:

March 2012

Technologies:

HTML, CSS, PHP, MySQL, AJAX

Project Link:

www.k12educon.com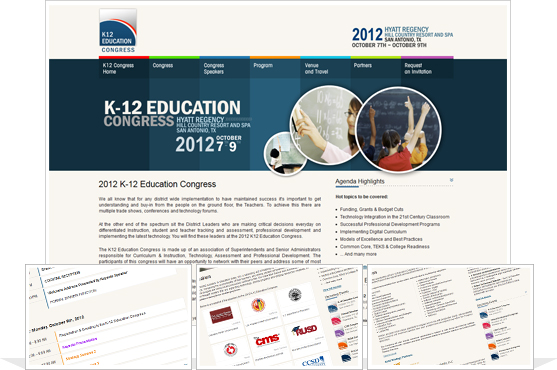 How we fueled it.
Made up of education superintendents and Directors, K12 Education Congress was created so that educators can meet, discuss, learn, and strategize on new ways of improving the education sector. K12 Education Congress creates events all over the United States for this great opportunity providing the attendees a common meeting-ground for collaboration.
The client wanted to present a clean and professional website with aesthetics that gave focus to their business model. By complimenting quality design with a user friendly content management system, we provided the client an online presence that increased their contracted sponsors and speakers. Due to the outcome of the site, RTM Business Group commissioned us for all of their creative work.