Ready to Talk?
Let's get on it.
We employ an unparalleled support system that simply complements the quality of our work. Even at 3AM someone is likely to answer your call or email.
Ignite On Interactive is a full-service design agency with a focus on Web Design, E-Commerce Development, Mobile Apps, Search Engine Optimization (SEO), Internet Marketing and Rich Internet Applications. Whether you need a website, online shop, corporate logo, brochure, flyer, or a full blown desktop/mobile/web application - Ignite On Interactive can help you transition your ideas into a finished product.
With average response times of under an hour, we are here for you night or day to answer any questions or concerns you may have for your next big project. Our service is matched only by our support.
We would love to hear from you. Get in touch with us.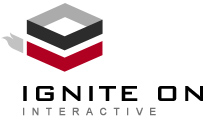 Toll-Free
888-8IGNITE
(844-6483)
All fields are required.