Case Study


Guitar Exposé Go back to projects list
A site dedicated to guitar aficionados worldwide. Share and discuss guitars, show off unique photos, or browse through other users' guitars.
Client:

Guitar Exposé

Industry:

Social Photo Gallery

Date:

June 2012

Technologies:

HTML, CSS, PHP, MySQL, AJAX, CakePHP

Project Link:

www.guitarexpose.com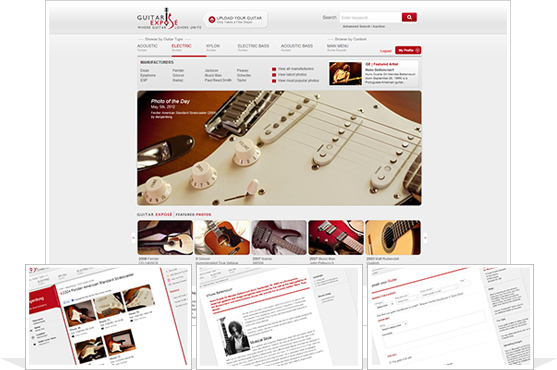 How we fueled it.
Guitars, guitars, guitars….. If you love guitars then this is the place for you. You can talk about guitars all day long, show off your collection, and even buy that rare one that you always wanted. The founder of Guitar Expose came to us via a recommendation. Like other clients they needed a powerful site that could handle the amount of traffic and have all the features that they were looking for.
They went to a company that was supposed to be top notch but ended up with a site that was mediocre at best. When we got the project we sat down with the founder and outlined exactly what they needed and step by step we built the site.